SoundTouch and IoT
Published on 2016-06-06 | Last modified on 2016-06-22
The audio quality of the Bose SoundTouch 10 is pretty good. However, a number of things bug me, not just with the SoundTouch, but with "IoT devices" in general:
You need to use a proprietary app on Android, iOS or Windows to set everything up;
You need to register for an account and provide personal information;
Without account you can't do much with the device;
It is not clear what kind of information is "leaked" to the manufacturer's servers when using the system;
Fortunately, the Bluetooth interface and the AUX input are available without setting anything up it turns out. So I decided to go back "offline". I accomplished this by removing the app from my phone and factory-resetting (1 + Volume Down) the SoundTouch. Unfortunately it is not possible to delete your "Bose account".
A problem is that the system will remain in "setup mode" which automatically enables an open access point on the device to which everyone can connect. It should be possible to disable WiFi and Bluetooth using a button combination (3 + Volume Down), but it doesn't seem to work in "setup mode".
Listening to the radio, without tracking, is now accomplished using an old Nokia phone with FM radio connected using a 3.5mm audio to the AUX input of the device.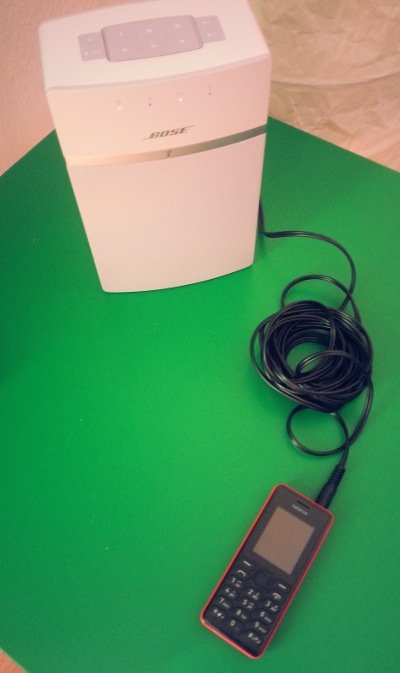 I guess I am still lucky that it works as much as it does without connecting it to the Internet! But using new devices without giving your data to manufacturers should not be that difficult! There is no need to integrate so tightly with online services...
Update: I managed to disable the "setup mode":
Connect to the WiFi network created by the SoundTouch;
Go to http://192.0.2.1 and enter the details of any existing network, I created an access point on my laptop without providing any Internet access;
This should make the device leave setup mode. It will still try to connect to the WiFi and keep the WiFi indicator flashing, but at this point the 3 + Volume Down works!
If you want to update the software on the device for some reason you can connect it to an access point with actual Internet and use the 4 + Volume Down combination to trigger the software update. This does not require using any app.
More details can be found in the manual on the Bose website.
Update 2: There are some issues when leaving the device plugged in with WiFi/Bluetooth disabled. It seems that at a random point, when not using the SoundTouch, it automatically enables Bluetooth (the blue LED turns on) and just sits there. Trying to get it back to AUX does not work and instead, after pushing some buttons, it will reset itself. After that point you are able to use it again. This is really strange. I guess I have to really unplug it when not using it.